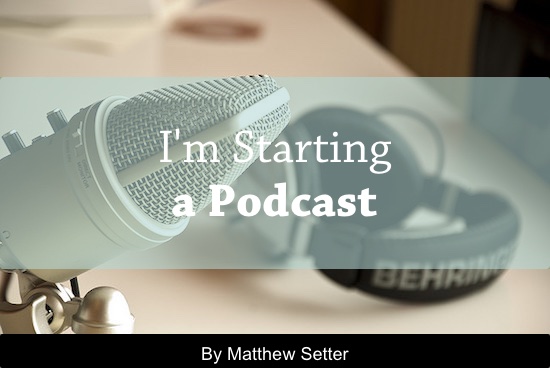 The Week That Was & I'm Starting a Podcast
Well, it's been an interesting week this last one. I wouldn't say it was a crazy one, but still interesting. The key standout for this week was that, I decided to start a podcast. That's right, after so long, I decided to start a podcast.
Well, it's been an interesting week this last one. I wouldn't say it was a crazy one, but still interesting. The key standout for this week was that, I decided to start a podcast. That's right, after so long, I decided to start a podcast.
It's something that I've been sitting on for quite a while now, perhaps two or three years in fact. But I was having a chat to the wonderful Paul M Jones during the week (another highlight), and during the conversation, which was meant to be about Aura.Di, but went off on to so many wonderful tangents, he asked if I'm involved in podcasting. I said no, but I was intrigued that he asked.
He was full of praise because of the way I spoke, the quality of the audio, and my style whilst we spoke over Skype. On my walk later that day, I thought about what he said – a lot – and decided that I'd commit to blogging each week, and if I wrote for four weeks in a row, that I'd commit to starting a podcast.
The main reason for this odd course, is that it's been so hard to stay committed to regular blogging, let alone taking on something new. So I theorised that if I couldn't keep up with what I was already doing, how could I take on something new, right?
Well, there I was last night, iPhone in hand, and I decided to start podcasting anyway, and tweeted about it. Well the support's been fantastic. I've had retweets and favourites from people I admire so much, as well as people I've never met. I've also had active encouragement from Paul himself, as well as Coderabbi, and Stephan Hochdörfer. Thanks folks!
What's it About?
That's a good question, one which Yitz and Paul asked. When I tweeted, I really wasn't sure. But now that I've thought on it further, two ideas are clear; these are tech and freelancing. These are the two topics that I know best. They're the topics which I am involved in, literally, every day of the year – with only few exceptions.
So let's get more specific. I'm planning to talk about both the ins and outs of being a freelance writer and developer. I'm planning to discuss what it's like, warts and all, how to get started, what to expect, what the good things are, as well as the not so great aspects.
And I'm also planning to talk about tech, code, apps, development, PHP, and all that goes along with it. Conceptually, it's similar to Run Geek Radio, by Adam Culp. It's going to strike a balance of the business side and the technical side; as well as a lot of things that fall in-between, and around. It will have a focused, yet informal approach, which is me to a tee.
Why?
Simple. When I started freelancing, whilst I wasn't short of available information, it took what seemed like ages to find the right sources, to find the trusted sources, and to start to make inroads.
I'm keen to make it easier for other people, plus to share the adventure of what has been one of the most challenging, yet rewarding decisions I've ever made. That's why for freelancing. Why Tech? Why the hell not? I love coding, designing apps, learning about new ones, new technologies, PHP, and everything that goes with it.
So What's it Called?
Now names. It's got to be called something, right? Here are some I've come up with so far:
This Freelancing Life
The Tech Freelancer
That Tech Freelancer
The Geek Freelancer
Write/Code Radio
Write/Code FM
PHPreelancer
CodeWriter.fm
WriterCoder.fm
None of these really sit well with me, except for maybe "The Tech Freelancer". But none of them really gel with me yet. I'm planning to settle on a title in the next week, then buy the domain name, setup the website and twitter account.
If you have a suggestion for a name, which embodies being and talking about freelancing as a writer/developer, email or tweet me.
I've made a list of what I need to do, primarily based on what I've learned from Pat Flynn, Cliff Ravenscraft (The Podcast Answerman), and Gregory Ciotti (Sparring Mind). I need:
A title and description
Artwork
A domain and a website
A hosting account for the audio files
A feed
And to stick to a schedule!
When's The First Episode?
I'm giving myself a hard limit of releasing the first episode on the first of July. That date I commit to, so stay tuned. It's a bit arbitrary, but it's enough time, allowing for my current work schedule, to do what needs to be done. So it's as logical as any other date. Plus it's not too far away.
I'll tweet more as I get through each step. That way, if you're keen to listen in, at least whilst I find my feet, you'll know where and when to find me. If you have any tips, tricks, or suggestions email or tweet me. I'd love to hear from your experience.
What Else's Been Happening?
Other than that, it's been a great week freelancing, as the two projects I'm on, one a PHP development project, the other an API documentation project, play to my two key strengths. Like anything, they have their easy and tough moments; but the key thing, people, is well and truly working well. So I can't complain there.
Well, that brings this week's recap in the life of the freelance writer/coder to a close. What's your week been like? What have been your highs and lows? Share with me and let's see how we both did.
---

Software Engineer, Ethical Hacker, & Online Privacy Advocate.
Matthew Setter is a software engineer, ethical hacker, privacy advocate, & technical writer, who loves travelling. He is based in Nuremberg, Germany. When he's not doing all things tech, he's spending time with his family, and friends.
---