Looking Back On 2016 / Coming Up In 2017
Well, here we are, just after Christmas in 2016, and New Years is right around the corner. It's time to take a moment to reflect on what was, and look ahead to what may come.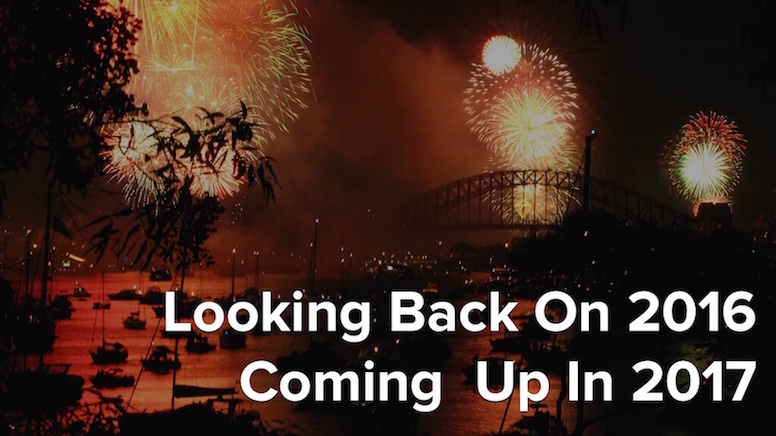 Well, here we are, just after Christmas in 2016, and New Years is right around the corner. It's time to take a moment to reflect on what was, and look ahead to what may come.
That's right, there's not long to go until the champagne flows, and we sing in the new year, watch the fireworks from around the world, and set New Year's Resolutions that may even last 24 hours.
Given that, I'm keen to take a moment to look back on what was in 2016 and consider what's coming in 2017.
Looking Back on 2016
The Website's Improved
I'll be a bit self-indulgent, by starting with the improvements to Master Zend Framework. While not finished, the site's gotten a good number of improvements. They've not been major one's, and they weren't all done at the same time. Instead, they were done progressively throughout the year.
The focus here was to improve readability so that the information's easier to take in. I know that there's still work to be done, mainly with mobile. I'm expecting to have that finished in the first quarter of 2017.
## We Kicked Off A Podcast
This is, perhaps, the improvement that I'm most happy with. I'd started my first podcast, Free the Geek, earlier in the year, and felt "why not make one for Zend Framework."
If you've not checked it out yet, it's called Zend Framework Quick Bites. Originally it was called Zend Framework Bites. But I was told that the connotation of that, in the US at least, wasn't all that positive.
So, to explain that a bit, my intent with the name, was to share "little bites" of Zend Framework goodness. I'd not intended to say that Zend Framework wasn't of high quality. I'll chalk that up to a learning experience.
At the moment I'm sticking with the sub-three minute format length, which is a restriction of the briefs.fm platform. But I'm strongly considering not limiting the show to that for much longer.
While it helps to have a restriction imposed on you, so that you force yourself not to waffle, I've been feeling that having the option to go longer would be worthwhile at times. If you feel the same way, tweet me (@zfmastery).
Loads of Improvements In Zend Framework
Getting away from the personal improvements, there have been quite some improvements in the Zend Framework package ecosystem over the course of the year.
There's the:
To draw attention to any one specific update would, I believe, draw attention away from all the other, fantastic improvements. Time allowing, check out the five links above, or scroll through the tweets from the Zend Framework development team.
All the contributors, no matter how small, have done some excellent work to improve Zend Framework, and it's related packages. If you have a moment, tweet them to say thanks, as it helps you do what you do.
Coming Up In 2017
That's a quick look back on 2016. Now, let's look forward to some of the changes coming in 2017, starting with my favourite.
Releasing a New Book
This is a bit of a pre-announcement, but early in 2017, hopefully by the end of the first quarter, I'm planning to release a new book on an exciting aspect of Zend Framework.
It's a bit early at this stage to say more. But, I'll be announcing more soon. Just as soon as all the key parts are in place.
Improving Zend Framework 2 Foundations
If you follow me on Twitter, you'll know that in the last month - 6 weeks I've been getting super excited about discovering the Asciidoc file format, along with its tooling ecosystem.
Given that, and all the exciting changes that have been happening in Zend Framework over the year, I'm planning to update — and keep updated — the Zend Framework 2 Foundations book. I know that this is something that I should have done the whole time.
But it's going to be something that's done:
Anytime there's a change to one of the libraries relating to the book
Anytime an error's found in the book
Anytime I feel that the writing could be improved to make it easier to read and use
If you've already purchased a copy, I hope that you'll appreciate the changes. If you've not yet bought a copy, I hope that you will.
I'll add a post, here on the site, to the mailing list, and a tweet every time a change is made. Oh, there's another change. It's going to be self-hosted. But more on that when the time draws closer.
Who's To Say What Else Is Coming
Given how much is going on in the Zend Framework ecosystem, and how life in the tech industry changes so rapidly, who's to say what else is going to happen in 2017.
But I'm confident that, if 2016's anything to go by, that 2017 will continue to be a great one for the community.
What are you working on? What was the best change for you in 2016? Share your thoughts in the comments.
CC Image Courtesy of *vlad* on Flickr
---
You might also be interested in...
---
comments powered by

Disqus